You may remember Megan and Sean from their Autumn engagement session from last year. We were really looking forward to their wedding day, since we'd been helping them along the way with their planning and well, simply because they are such a lovely couple, we couldn't wait to see them get married! 🙂 When Megan and Sean chose us to be their wedding photographers, we felt so lucky, because Sean is a fellow creative. We feel honoured when creatively minded clients choose us, and we love it when they truly see what it is we are doing as not merely as a documentation of their day, but art created from the wonderful and rich experiences of their wedding day.
Since Megan and Sean are avid Vancouver urbanites, their wedding day was entirely planned to experience areas of Vancouver's urban core that they enjoy spending time in and we  happen to love shooting weddings in urban environments. They are a truly well loved couple and were supported by their 14 friends/family in their wedding party and surrounded by loving guests all day.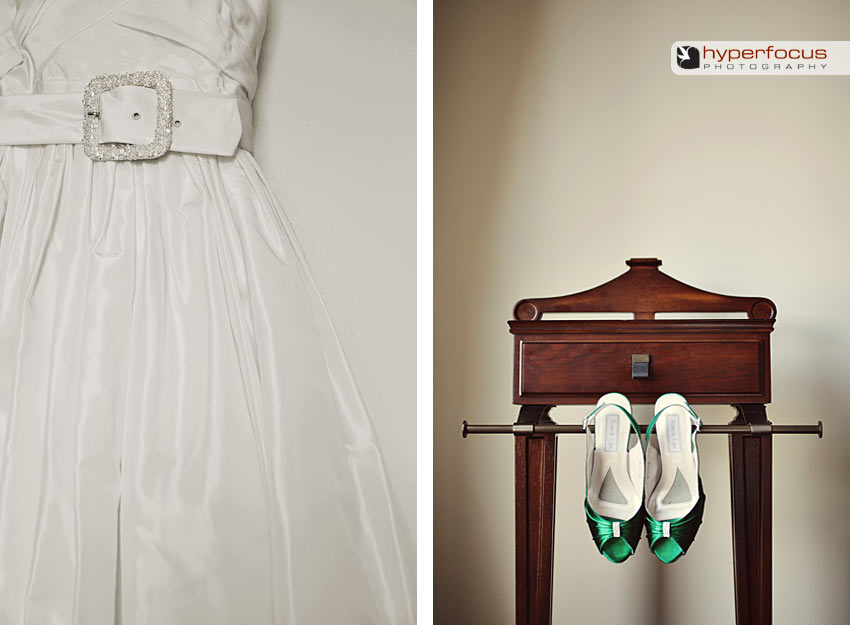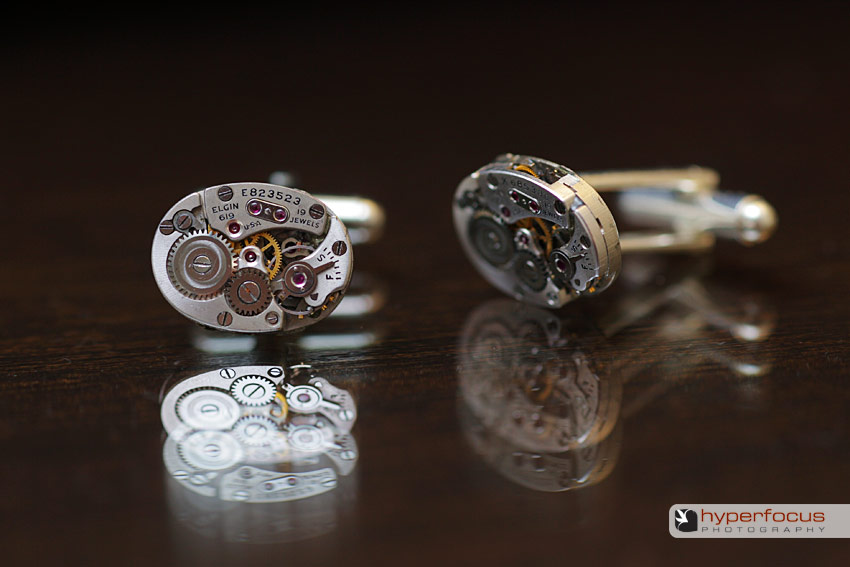 Sean's super nifty cuff links made of old watch components!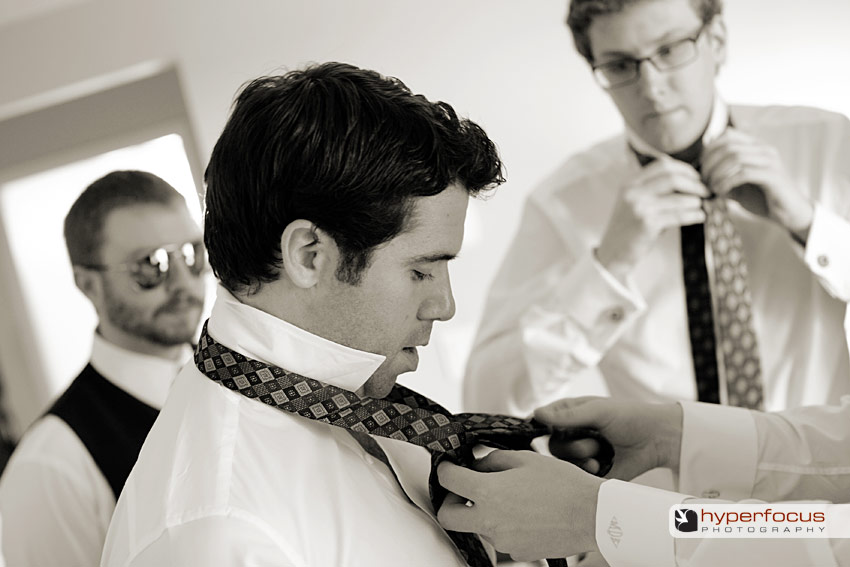 Sean helping one of his seven groomsmen with his tie.

I always love how the bride gets so much positive attention and encouraging comments on her wedding day from random strangers and these workers out on strike are no exception!

Since Megan and Sean chose to have the majority of their photo session before their wedding, we arranged to have their reveal in a quiet space where they could see each other for the first time. Bride/groom reveals have become some of our favourite wedding day moments. It's so nice to see couples having a few quiet, loving moments to themselves before the momentum of the day really kicks off into high gear.
Having a reveal or 'first look' is something we arrange for the bride and groom where they meet up at specific location with the groom facing away from where the bride is coming from. Here Megan simply walked up from behind him and gently said hello. She had pretty big case of laryngitis (poor girl) so she said very little and simply tapped him on the elbow, yet it was a very moving time for both of them. And of course we feel so lucky to be there and respectfully capture the moment for them.
We feel that having a reveal has many nice positives.  There are so many great and amazing emotions on a wedding day and nervousness can certainly be a part of that. Some couples feel that if they see each other beforehand in private, without all their guests staring at them, they can then relax, hug, kiss and check in with each other. And later truly enjoy the walk down the aisle without the nerves and experience the ceremony in a much more relaxed way. And it certainly doesn't take away from walking down the aisle, because- she is still only doing that once. 🙂
Another benefit to having a reveal and your photographs before your ceremony it allows you to flow really easily into a cocktail hour or reception without having a big time gap and missing out on the mingling with your guests so soon after the ceremony. It allows for more time with your guests that have all made the special effort to be there just for you.



Their wedding ceremony was at the Museum of Vancouver and one of their friends drew a huge mural (this is a small section of it) on the chalk board as some nice casual art. Hey, why not!?

Although Megan has almost completely lost her  voice, she was able to say all the important bits to their ceremony vows.


Stunning!



They really brought so many little personal touches to the day and here is one example with their table cards. Instead of numbers, they chose streets in Vancouver that they have personal connections and experiences with and shared those stories with each table.

Hello Rice Krispie wedding cake!!! I was so looking forward to and excited to see their wedding cake when they told us about it during the planning stages of their wedding!! What a fun and playful wedding cake idea. Yum YUM!



Megan and Sean and guests enjoying his mom's quirky and heartfelt speech.

First dance!

It was a real pleasure to photograph and be a part of Megan and Sean's urban wedding day experience. And Megan we commend you on being a real trooper on your wedding day despite feeling so ill. If i hadn't mentioned it, no one would have noticed as you looked so beautiful and elegant throughout the entire day.
And after their wedding, Megan had these lovely words to share:
"When we started looking for wedding photographers, we not only wanted to find people who could plan and shoot beautiful photos, but also people we could feel comfortable with. Meeting Steff and Justin for the first time felt like we were meeting up with friends for a chat, and looking through their collective works showed us how talented they are. From the engagement photo session onwards, they helped support our planning process not only by being fun to work with, but also by giving us information or advice if we needed it for other parts of the wedding. When it came time to think about our wedding photo shoot they took the time to learn more about who we are as a couple and then scoped out some fabulous locations to reflect what we wanted to showcase. Also, the candid photos they took captured the mood and moments of the day so well and produced some of our favourite images! Overall, we knew that we could relax and rely completely on Hyperfocus to take care of all of the necessary details.

Thanks Steff & Justin for being part of our wedding experience – we are so happy to have met and worked with you both!"

Cheers,
Megan
…………………
Megan's Make-Up: Bre Teranishi
Megan's + 7 Bridesmaids Hair!: Heather Poirier & Susan Reber
Megan's Wedding Dress: Bello Wedding World
Megan's Wedding Shoes: Touch Ups (dyed to order)
Bridesmaids Dresses: Davids Bridal & Alfred Angelo
Sean's Nifty Cuff links: Etsy, LondonParticulars
Sean and Groomsmen Tailored Suits: Indochino
Florist: Leo Damian: bouquets
Ceremony Location: MOV Museum of Vancouver
Reception Location: The Alibi Room, Vancouver
DJ: DJ Aaron from Music Maestro
Wedding Cake: Wendy at Cakeaters
…………………