Designing you a custom wedding album is a very important part of what we do.
The art of of telling the story of your wedding day is complete, when you are holding a a real physical album containing a collection of your favourite photographs.
It's our job to make your images unforgettable, whether in gorgeous online galleries or in stunning books and albums. You know an image is truly special when it has been selected out, printed and beautifully presented.
We have searched the globe for the best boutique album maker we could find and that is who will make your album. His name is Jack. (and he cares about your wedding album pretty much as much we do.) 🙂
We believe in the highest quality possible, while still maintaining good value. If you feel this way too, then it sounds like we are a great match!
Wedding Album reveal at our Gallery Lounge.
---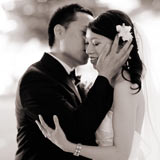 "When Steff + Justin finished our album my husband and I were speechless! We were totally blown away by their talent and work. They absolutely surpassed our expectations. Every single photo was so perfect and beautiful it gave us goosebumps." Adrienne + Andrew