For most of you, you will be hiring a wedding photographer for the first time and we thought we would help you out with a place to get started. As established Vancouver wedding photographers with over 10 years experience, we would like to share a few valuable tips how to choose your photographer.
1.  Are you the actual photographers that will be at our wedding?
The answer should always be yes!  This is critical as your photographer(s) will be around you all day and you really want to get along with them. If they can make you laugh and feel comfortable, your will look great in your photographs.
Each Vancouver wedding photographer has their own style of shooting and varying quality of photographs, you want to ensure that the photos you are looking at and the people you are meeting with represent what you will be getting.  Don't settle for companies that will send some photographer you haven't met to your wedding, chances are you will end up disappointed.
2.  Can I see an example of an entire wedding?
It's easy to pull out a few good shots from several different weddings, but you need to know that your photographer can get the quality images you want from start to finish, all day long. Make sure you see images from a single wedding.
Also try to see some examples that best represent your scenarios. For example, if you are having a reception in a dark and moody place, then try to see some examples of images that are shot in that type of environment.  The quality of a photographers work can often be determined by how well the shots look in the most challenging of circumstances; for example – dark places, bright direct sunlight, snow, rain and more.
3.  Is wedding photography your primary business?
They should be a dedicated, full-time pro. For a 10hr wedding, we spend up to 80hrs of work, that's a lot of time- you need to know that your photographers can dedicate that time just for you.
Your photographer should also have a proper place of business, either a dedicated studio, residential studio or meeting space.  You are going to be placing an enormous amount of responsibility in your photographer to create photographs that will be with you for the rest of your lives, not to mention a significant financial investment.  If the photographer you are meeting with does not have a proper place of business or earn a full time living from what you need them to do, then there is probably a reason for it and you should move on.
You should also make sure that the photographer can provide the services you need or may want, such as albums, printing and/or framing.  There is nothing more irritating that having a bunch of beautiful photographs that can't be finished off into a nice presentation for you because your photographer doesn't offer the services you and your family might need.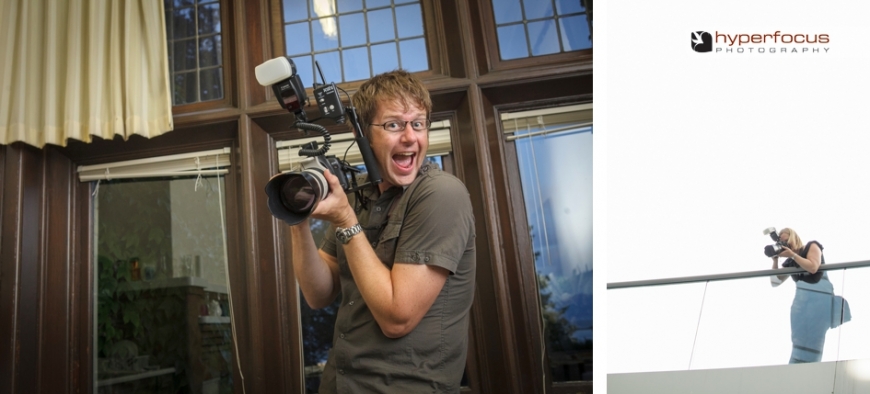 4.  What kind of back-ups do you have in place for camera equipment, lighting and yourselves?
There are no re-dos for your wedding! Your photographer should have back-up camera gear, lighting in case of bad weather and a contingency plan for if they are sick or injured. Liability insurance is a must!
5.  We don't want to wait too long to see our photos, will I be able to see my photos a couple of weeks after my wedding?
You shouldn't have to wait months to see your photos.  Have a firm commitment on the turn-around time included in your contract. We do a 14 day turn around for our clients.
It is important to think ahead about what will happen with your photos after your wedding.  This is where, if you not diligent at the beginning, you could be in for a big let down.  This also ties back to making sure your photographer is full time, they will need a lot of time to sort through and prepare your images as well as make your album, if you have one.
Good luck with all your wedding planning, try to have fun with it and make choices that make sense for the two of you. Unfortunately any mistakes about who you choose to photograph your big day won't be realized until after the wedding, when it is too late.  Following these 5 questions to ask photographers, will go a long way towards making sure that 'photographer regret' is one wedding gift you don't have to worry about getting! We hope this has been helpful for you and if you have any questions for us, certainly just ask, we'll be happy to help.
P.S. And yes, that's us at work in the photos! 🙂