Today is Maria + Edgar's 1st wedding anniversary, so we thought we'd share some of their wedding album with you, since we didn't post a blog story of their day. Their Richmond wedding album has a custom handmade box with an inset photo that matches the cover of their album. Their album cover has a lovely soft distressed brown leatherette which feels great in your hands. So luxurious! They had a beautiful Richmond wedding day and their beautiful wedding album reflects it! Their wedding ceremony was held down on the dock at the UBC Boathouse and although it was a luncheon wedding, they surprised us with heaps of dancing right in the middle of the afternoon! We were so surprised to see a full-on dance party in broad daylight, but it sure made for a very festive party….and some excellent Pilipino line dancing, breakdancing and YMCA dance moves!
Happy Anniversary Maria +Edgar!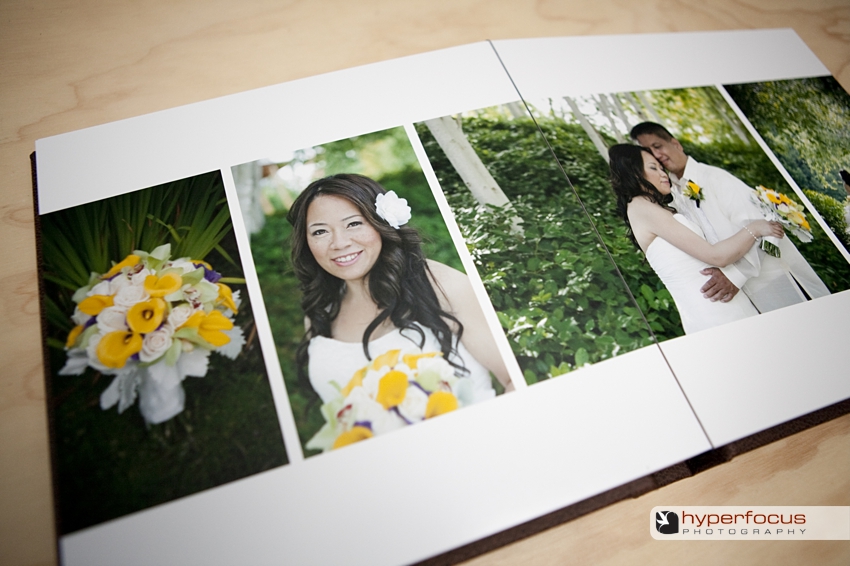 ***************
A note from Maria:
"Thanks again for everything Steff + Justin…we have been thoroughly enjoying our wedding album. It's now prominently displayed on our new coffee table!
Edgar actually surprised me with a replica of our wedding cake for our anniversary. I had told him how disappointed I was that I didn't even get a chance to taste the cake on my wedding day. From what others were also telling me, it was delicious. So for the past year this is what I have been telling our friends and family that this was the only regret I had about that day….not being able to taste that cake!
So what does my wonderful hubby do??? He went to the same bakery and ordered the same cake, modified of course…planned a small gathering of friends and had a surprise "cake party" at our place, this past Monday. It was awesome!
Hope you guys are doing well!"
Maria